5182 And 5454 Aluminum Plate For Oil Tankers
The tank truck can be divided into steel tanker and aluminum tanker. Aluminum alloy tankers first appeared in the United States in the late 1920s. In the 1940s, aluminum alloy semi-trailers began to appear. In the 1960s, the shape of the aluminum alloy tankers was more reasonable.In the 1970s, due to the oil crisis and other reasons, the aluminum alloy tankers were rapidly developed.
The oil tanker made of aluminum plate has light weight, larger load, lower operating cost, good corrosion resistance, wear resistance, long service life, safety and environmental protection. The transformation from steel tanker to aluminum tanker has solved many transportation problems faced by countries all over the world, such as road congestion, environmental pollution, energy saving and emission reduction.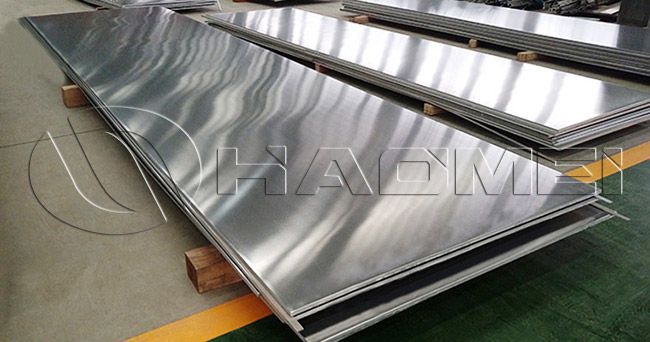 A typical aluminum tank ruck is about 40% lighter than a steel tanker. A large number of studies have shown that if the weight of a truck is reduced by 10%, the fuel consumption of the vehicle will be reduced by 8%, and the related harmful gas emissions such as carbon dioxide and nitrogen oxides will be reduced 4 %.
5xxx aluminum has good corrosion resistance and weldability, which is widely used in ships, automobiles, railroads, petrochemicals and other fields. After undergoing welding, wrapping or rolling processes, 5xxx aluminum such as 5454 aluminum is used for the making of cylinders, heads and bulkhead of oil tankers.
5454, 5083 and 5182 aluminum are three main types of aluminum plates for tankers. Among them, Haomei 5182 aluminum sheet has a tensile strength of 280MPa or more, a yield strength of 125 or more, and an elongation of more than 26%. It has reached the "European Agreement on Road Transport of Dangerous Goods (ADR)" and the European "Aluminum and Aluminum Alloy Dangerous Goods Storage and Transportation Tank ". Welcome to leave message below to inquire them.
Original Source:https://www.aluminumtankerplate.com/a/5182-and-5454-aluminum-plate-for-oil-tankers.html
Tags: 5454 aluminum , 5182 aluminum , aluminum plate for oil tankers ,
Prev:5xxx Aluminum Plate for Tankers
Contact Us