5182 Aluminum Plate for Tankers
As an important logistics equipment, tank trucks are widely used in the automobile transportation industry. Due to the heavy weight, low quality utilization factor and high fuel consumption, the carbon steel tank trucks have been gradually replaced by aluminum alloy load tanker. One of the popular choices is 5182 aluminum plate for tankers.
It is of low density, good conductivity, strong corrosion resistance, good heat dissipation and easy processing. Another important feature of it is that it has high relative mechanical properties, which can meet the requirements of the use of tank truck. Therefore, it is one of the important ways for the development of lightweight vehicles.
Mechanical Properties

Raw Material

Low carbon steel

Low alloy steel

High alloy steel

Cast iron

Aluminum alloy

Relative density

1

1

1

0.92

0.35

Relative strength limit

1

1.6

2.5

0.6

1.8-3.3

Relative yield limit

1

1.7

4.2

0.7

2.9-4.3

Relative stiffness

1

1

1

0.51

8.5
Additional cargo income
Each country has stipulated the total weight limit of all kinds of automobiles. With light weight, the aluminum alloy fuel tanker can legally load more oil and earn more benefits than carbon steel truck.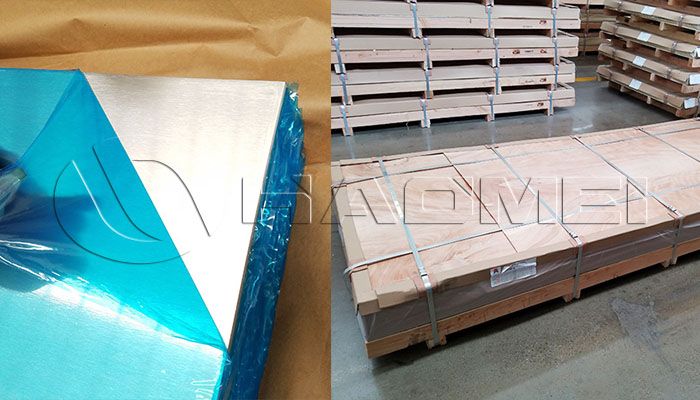 Lower fuel consumption
The aluminum alloy tanker has a light weight, which can save fuel and reduce tire wear when fully loaded.
When the no-load driving speed is 40 kilometers/hour, 60 kilometers/hour, and 80 kilometers/hour, the fuel consumption of aluminum alloy tank trucks can be reduced by 12.1%, 10%, and 7.9%, respectively, compared with carbon steel tank trucks.
Higher residual value of tanker
The aluminum recycling price is usually 6-8 times that of carbon steel. A scrapped 25,000-liter aluminum truck body can be recovered more than 20,000 RMB more than a 25,000-liter steel Tank truck.
Safer Transportation
The fuel tanker made of 5182 aluminum sheet is 10%-15% lighter than carbon steel tanker of the same volume. The lighter upper tank lowers the center of gravity of the vehicle and makes the vehicle more stable. It also will reduce tire wear when no load and greatly reduce the probability of tire blowout.
Longer service life
Aluminum alloy can form a dense aluminum oxide protective film on the surface, which can effectively prevent the atmosphere and moisture from corroding, so that it has strong anti-oxidation ability and will not rust.
From the above analysis, it can be concluded that the use of 5182 aluminum alloy can help the transportation enterprises create more profits and comprehensive benefits. Welcome to leave message below to inquire 5182 aluminum sheet price.
Original Source:https://www.aluminumtankerplate.com/a/5182-aluminum-plate-for-tankers.html
Tags: 5182 aluminum ,
Prev:5182 Aluminum Alloy for Fuel Tanker
Contact Us